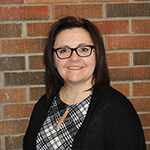 Raised on a farm near St. Paul, Nicole currently resides in Edmonton, AB. Her family consists of her husband John, and their two lovely daughters. In January of 2020, she joined the Bergeron & Co. team as an accounts receivable clerk and occupies the role of Receptionist. In these roles she processes one-on-one relationships with the clients, and looks after the day-to-day management of the front office. She also helps prepare the materials needed for client review meetings.
Prior to joining Bergeron & Co., Nicole previously worked for Lifetrek Financial Group, as a client service case manager. This position provided her with lots of work experience in the financial service industry. Nicole's exceptional organizational skills and attention to detail is a positive asset at Bergeron & Co.. Nicole engages and connects well with our clients. She is fluent in both of Canada's official languages, which is a nice asset to have for our French speaking clients.
Nicole has a bubbly personality, is charming and easy to talk to. You will enjoy talking with her, whether it is to book a meeting or to get an administrative question answered. Nicole always conveys a positive attitude, and is committed to providing great client service.